Muskingum County Commercial Roofing Contractor – Miller Roofing Contractors | Utica, OH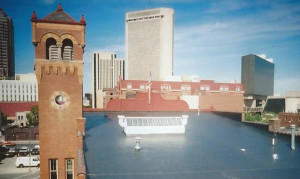 Are you looking for a Muskingum County commercial roofing contractor? If so, Miller Roofing Contractors is just a call away. We specialize in commercial roofing, so please don't hesitate to call us for all your commercial roofing repair or installation needs.
We offer Conklin's 40+ years of technology for all of our roofing systems, so you can feel confident having your roof work done by us. We also provide one-on-one guidance if you are unsure which type of roof would best suit your needs.
No matter what type of roof you need, our experienced roofers will get the job done right. Having roofers you can depend on is just as important as having a roof you can depend on. After all, your roof is your first line of defense against the elements. It's worth the time and money to protect everything you've worked so hard to attain.
Roofing services provided by our Muskingum County commercial roofing contractor include:
Rust Removal
Leak Detection
Roof Inspections
Storm Damage Repairs
New Roof Construction
Old Roof Refurbishing

Different types of buildings require different types of roofing. Miller Roofing specializes in commercial flat roofs and pitched roofs. If you don't know much about these types of roofing styles, here's a brief overview:
Flat Roofs
Advantages
Easier to climb on and inspect
Cheaper and faster to re-coat or install
Gives alternative space for heating/cooling units, solar panels, greenhouse, upstairs deck
Disadvantages
Less productive drainage
Repairs can be more frequent and expensive
Collects more dirt and debris that would slide of off a pitched roof
Pitched Roofs
Advantages
Longer lifespan
Rain and snow run right off
Gives space for loft or storage area
Disadvantages
Higher upfront cost
Takes longer to construct
More prone to wind damage

If you're ready to get started on your next roofing project, Miller Roofing wants to be your #1 Muskingum County commercial roofing contractor. We'll give you the best service at the best price, and we'll even throw in a smile or two. Call us today for your free quote and personalized assistance.